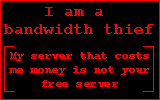 Site Info
Below are links to articles posted in Site Info.
September 23rd, 2009
What's a Gravatar you ask? Simply: it's a universial avatar.  A service that gives your email the same avatar any where you post (that supports Gravatars of course). I've known about them for a while but never really bothered messing with it. I must admit, the Gravatar Website is ridiculously easy to use.  I mean […]
February 17th, 2009
I have changed the way my blog handles/creates permalinks to my articles. The new format is much more search engine friendly, and looks better IMO. My site was having a few issues for an hour or so earlier while I hammered out the precise apache rewrite rules to make it do what I was wanting […]
September 12th, 2008
You can now search this site using the new link at the top, obviously labeled "Search". I found my self looking for older blog entries in my own blog and decided it was time for a search page. It's pretty plain-jane and straight forward for now.  I hope you find it useful. I know at […]
October 1st, 2007
Things are moving along… still working on making the server perform the tricks I need it to. Please bear with me! PewPewPew!
October 1st, 2007
Everything is newly installed so nothing is really working yet. But keep checking back as I get things running and updated on the site!