So I am sitting here watching one of my newest favorite shows, The Good Guys on my DVR when I happened to notice something interesting.
In the "Don't Tase Me, Bro" episode (Episode 9, Season 1), there is a Navy Blue Pontiac TransAm WS6 fully decked out with ZO6 wheels.  Very pretty and still one of my favorite muscle cars to this day (damn you GM/Pontiac).  As you can see, it clearly has the chrome ZO6 wheels, TransAm nose, Ram Air hood, and TransAm raised spoiler: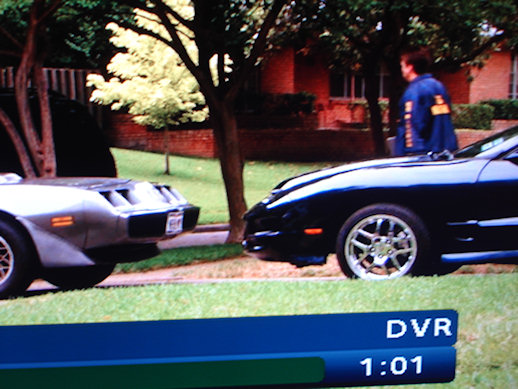 But, as this show tends to do, things get blown up and wrecked.  This particular car has the unfortunate fate of smashing in to a retaining wall and getting rolled over.  A truly cringe-worthy site.  Or is it?