Funny "insider" type joke in the new Ghostbusters video game
On June 16th the new Ghostbusters Video Game came out.
Being a HUGE fan of the series for the majority of my childhood, I decided to do something fairly rare (in my world at least), and that was to actually purchase the game.
Luckily it was made available on Steam, which I already have an account on and is where I've been buying the majority of the [few] game I actually purchase.  Steam has so many advantages to it, I feel it really adds value to a game when you can buy it through Steam.
But anyway, I was playing some Ghostbusters tonight having a complete blast.  After destroying the Stay Puft Marshmallow man, it was time to return to the Ghostbusters HQ.
Upon arriving I decided to take the spare down time I had and explore the HQ a bit.  I mean, what child of the 80's WOUDLN'T want to walk around the GB HQ?  And let me tell yah, they got it PERFECT.  Not only the HQ really but the whole game is done very very very well and you can really tell while playing it that they put a lot of time in to the story and game play to make it an authentic and enjoyable experience.
During my wondering around I noticed Winston hunched over a computer screen.  I looked at the computer screen and started laughing… here is what I saw (cropped image):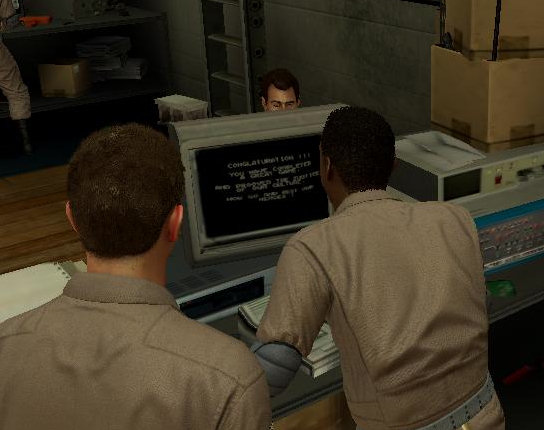 I know it's a little hard to see… but it is the final screen from the absolutely ABYSMAL original Nintendo Ghostbusters video game!  Complete with misspellings and completely fucked grammar.  I couldn't help but laugh, and it really made me appreciate the detail put in to this game even more… even giving a little jab to the complete abomination known as Ghostbusters on the Nintendo.
I'd also like to say that if you're a fan of the movies, a child of the 80's, you will LOVE this game and I really suggest you buy it to show your support for projects such as this one.  The game isn't just a game, it feels like you're part of the movie.  It really makes you want to get out your little plastic proton pack with yellow foam confinement beam, run around the backyard, and bust some ghosts!