Breaking Bad – The Best Show You're Not Watching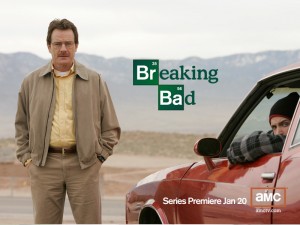 I heard about this show from a post on a message board.  People were raving about how good it is, and since I'm not one to miss a good show, I thought I'd check it out.  I've watched the first 4 episodes and I am hooked.  This show is fantastic.
I said it's the best show you're not watching because it is.  Sure House is better, but you're probably already watching that.
How AMC landed a show like Breaking Bad blows my mind a bit.  Give the show at least 2 episodes.  I watched the series premiere and I felt kind of on the line about it, but after I watched another episode I was really hooked and drawn in to it.
To give a quick plot summary, the main character is diagnosed with a terminal illness.  He is a typically passive goody-goody up until he realizes he is going to die.  He realizes his family needs money and he will do anything he can to ensure his family, a crippled teenager, and a pregnant wife, will have what they need after he is gone.  This leads to crazy, yet fascinating stories such as him becoming the finest meth cook New Mexico has ever seen.
It really makes you feel for Walter (the main character), feel the despair, the confusion, the anger…  Bryan Cranston deserves an award based on his performance in the first 4 episodes alone.  I can't wait to see what the final 3 of the first season, and the first episodes of the currently-running 2nd season have in store.
So anyway, give Breaking Bad a chance, I bet you'll like it, and it deserves all of the attention it can get!