Something that has bugged me for a long time in Windows 7 is how the taskbar right-click functionality was changed.  Since Windows 95, when you right clicked on an item in the taskbar, you were presented with a menu to Restore, Minimize, Maximize, Close, and with some programs, some nifty custom options (like PuTTY's custom menu, which since I use it  a lot, is the main source of my gripes here).
But, for some reason in Windows 7, Microsoft decided to do away with all of that and change what the right click does.  Right clicking now brings up Windows 7's jump lists.  A feature that is absolutely worthless to a good 95% of the programs that run on Windows.  It was so incredibly frustrating to me to right click on running program and not be presenting with a useful menu, and right clicking on the program name in the jump list presenting you with an equally worthless menu.  Even more frustrating was there is an alternate way to access jumplists, by clicking and dragging up, they didn't have to change the right click functionality!  The final straw was when they (as usual) gave you no setting to change this option back to the classic right click menu.  Now, I realize you can hold the Shift key and right click on a taskbar item to get the classic menu, but I want that to be the default function, not something that his hidden behind the shift key.
Well, as you may have guessed, I have a fix for this.  A little free program called 7 Taskbar Tweaker.  This program will let you change the right click function back to the classic menu (and a slew of other tweaks)!  And even more so, if you do use jump lists for something, you can still access them by the other method of clicking and dragging up like I mentioned above.  The only slight downside is that the program must run in the system tray for the changes to remain in effect as it actually has to inject a dll and hook in to the explorer process since there are no registry options for the tweaks it applies.  Fortunately, the memory footprint is fairly small, clocking in at only around 2mb of ram used, so it's not going to have an adverse effect on systems, even those with only a couple gigs of ram.
So, you can change this: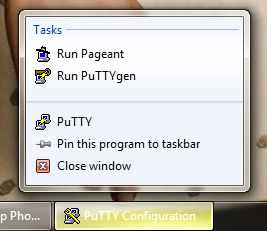 Back in to something useful: