While the below is not written by me, I wanted to share it here as well.
Thank you for taking the time to read.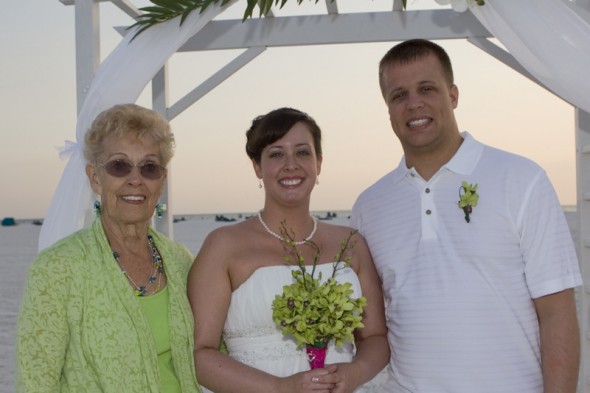 On May 24th 1930, Virginia Overstreet was born to Frederick Dayton Westervelt and Neva Francella Ruggles in Three Rivers Michigan.  She was second born of three sisters, Dorothy being the eldest, and June the youngest.  She graduated in 1948 from Three Rivers High school.  She was known as Ginny to her friends.  In 1950, while working as a secretary in the office at Freeland's she was approached by Gerald K. Overstreet, a factory floor worker, for a date.  She refused his attempts to get close, at least until he bought a new car.  She eventually fell in love with, and eloped with Gerry in 1951.
As time passed and she raised a family with Gerry.  She had four boys.  The boys in order of birth are; Thomas, Lerry, Robert, and ooops….Randall.
In 1967 Gerry got a new job in Springfield Illinois where they stayed and raised the boys for the next 12 years.  While in Springfield, Virginia began her lifelong attachment to supporting "Meals on Wheels", a program for getting food to those that could not get out of their home.  She donated her time and delivered food for several years.
In 1979, Gerry took a new position in Miami Florida.  With only Randy remaining at home, Virginia had time to return work as a bookkeeper which she did continued to do until her retirement and move to Stonecrest in the area of the Villages Florida, in 1987.   By this time Gerry and Virginia had four grandchildren to visit and be visited by; Nicholas, Aaron, Elizabeth, and Lauren. In her much deserved retirement Virginia played golf, joined the Red Hat Society, traveled, and continued to enjoy life to the fullest.
While living in the Villages Gerry and Virginia both donated their time to Operation Homebound.  Virginia helped prepare the meals and Gerry delivered them.  She donated her time to the Homebound kitchen for many, many years.
In October of 2002 Virginia was dealt a terrible blow when Gerry passed away from cancer.
Even after Gerry's death in 2002, Virginia did not slow down.  She continued working with Operation Homebound, and travel the world.  She visited the Holy Land, China, Egypt, Greece and England to name a few places.
In 2010, Virginia was diagnosed with kidney failure.  After much debate and almost waiting too long she agreed to take the painful three times a week dialysis program.  She was generous to fault and would not impose on people even if is was to her detriment.  In her remaining years, it was to her detriment, she often refused prepared meals and assistance from other members of the community, as she did not want to impose.  With her health failing and much debate she agreed that she could no longer live alone and moved in with Randy and his wife Rose, in Texas in February of 2013.  With her health continuing to fail, she was visited by her two great granddaughters, Amelia and Natalie.  Her legacy lives on.
Virginia passed away on September 21, 2013 in Kingwood Texas; from complications relating to kidney failure.  Virginia was 83.  She IS in a better place.
The family requests in leiu flowers to please donate money and time (both are needed!) to the North Lake Presbyterian Church's program, "Operation Homebound", 975 Rolling Acres Road, Lady Lake Florida 32159 (http://northlakepc.org/ohb.html), or to the local "Meals on Wheels" program in your area.  Please be sure to donation are identified as going to "Operation Homebound."