Android Contact's Birthdays In Your Calendar
I've had my Android phone a week and a half now and I love it.  It brings everything together in to one phone.  Perhaps that is why they called it the Nexus One?
But there was one "link" missing.  If you spent time entering birthday information for as many of your contacts as possible, they don't show up in your calendar.  Even my girlfriend's Blackberry does this, surely Android can.  I had downloaded an App from the market call EboBirthday.  While the app worked, it still had a flaw.  The birthdays didn't show up in you calendar.  If you wanted to see what birthdays were coming up, you had to actually open up the EboBirthday app.  And on top of that, if you added in any new birthday information, you had to manually resync the EboBirthday app.  Rats… this isn't the best solution.
Well, last night I was playing around and Google Calendar, and there is actually an option tucked away, built right in to Google Calendar, that lets you show your contact birthday infromation right on the Calendar!
Here is how you add it on:
Go to the Google Calendar web interface on your computer (google.com/calendar).
1) Click the settings button in the upper right
2) Click the "Calendars" settings tab
3) In the Other Calendars section click "Browse Interesting Calendars"
4) Click the More tab here
5)  You should see an item labeled "Contacts' birthdays and events", click the Subscribe link. (While you're in here, you might want to poke around.  There may be some other calendars you're interested in adding in to your own as well, such as holidays and stuff!)
That's it!  In a couple minutes, all your contact birthdays will show up on the Calendar in your phone.  How cool is that?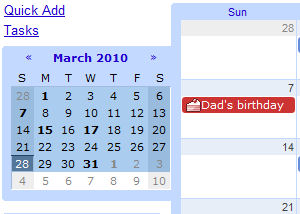 While this is a nice feature to have available, it highlights one of the issues with Android and Google integration right now.  When you're looking for a setting, it's not always in the most obvious place, and some times you can only change it on the web.  However, I do expect as Android matures, we will see a lot more features and options added directly in to the Android OS.  I love Android and I suspect will be sticking with it for a long time to come!