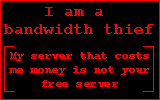 Messing with Script Kiddies
January 15th, 2009
Starting the first week in January, I started noticing my personal server getting pounded with requests looking for roundcube or mantis installs on my system. After doing a bit of research at the Internet Storm Center I realized it was a new vulneribility in these programs and these script kiddies were just scanning servers for the existance of these specific directories.   In the last couple weeks I have been scanned at least 25 times… so I decided to have a little fun with the script kiddies.  Now instead of getting an error 404 page, they will get… well, here is the code.  I'm sure you'll see where their scripted scanners will be getting sent to 🙂
Redirect /nonexistenshit http://www.fbi.gov/
Redirect /mail http://www.fbi.gov/
Redirect /bin http://www.fbi.gov/
Redirect /rc http://www.fbi.gov/
Redirect /roundcube http://www.fbi.gov/
Redirect /webmail http://www.fbi.gov/
Redirect /mantisbt http://www.fbi.gov/
Redirect /tracker http://www.fbi.gov/
Redirect /bugtracker http://www.fbi.gov/
Redirect /bugtrack http://www.fbi.gov/
Redirect /support http://www.fbi.gov/
Redirect /bug http://www.fbi.gov/
Redirect /bugs http://www.fbi.gov/
Redirect /mantis http://www.fbi.gov/
3 Responses to "Messing with Script Kiddies"
KrAzE Says:
February 7th, 2009 at 2:53 pm

I tried http://www.nicholasoverstreet.com/mantis and got me a "The page cannot be found" PHP manages 404's for the most part using wordpress. I hate it however.

Nick - Author Comment:
February 10th, 2009 at 8:13 am

Ah, I should've added it's not this server. This site is hosted at a hosting facility in Springfield.
The site I was referencing above is an http server I run on my home cable connection through Newwave.

KrAzE Says:
February 14th, 2009 at 6:58 pm

hacker!

……………………….
Leave a Response